Friday, May 6, 2011
Posted by

Wedgie Nation
at 7:25 AM
No comments:

Monday, April 26, 2010
Here are some clips of our favorite "Fugly Things"



Posted by

Wedgie Nation
at 9:36 AM
No comments:

Have you ever seen something that is beyond ugly, so ugly that its Freakin' Ugly. We have and have put together a community dedicated to everything and anything
FUGLY
(freakin ugly).
But fugly people are funny aren't they.
Sign up for free
and immediately get even with the pimple faced little troll that denied your credit card at the Blockbuster. Why not show off your dimple butted cabbage patch neighbor whose dog can't take a poop on his own lawn?
If it's freakin ugly it's FUGLY and if it's FUGLY we want you to share it with the world. The Fugly Nation Community doesn't hold back either, we know FUGLY and if we find it, we'll post it no matter whose prima donna ass we might offend. Grown ups, kids, cars, pets houses and especially grown ups. Know somebody FUGLY? Whip out your camera phone and snap that FuGLY. Our community is loaded with truth, justice and the american way, - hell, we love making fun of people, places and things. C'mon FuGLY Hunters, go on and show us the FuGs!
Posted by

Wedgie Nation
at 9:30 AM
No comments:

Labels: fat and ugly, fugly, fugly dog, fugly people, most ugly, really ugly people, ugly, ugly car, ugly fat people, ugly people, ugly people pictures, ugly picture, ungly, weird ugly
The Go Nation is a Network of 16 free fun filled websites. Show off your mullet, manboobs or your redneck ways. Why you can even check out the latest in muffin top fashion. Check out The Go Nation will put the zing back in the most uneventful day.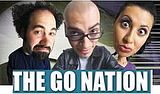 Posted by

Wedgie Nation
at 9:27 AM
No comments: